Arrival & Land Logistics
Welcome to the Buffalo Canoe Club!
The entire east side of the BCC property is designated for regatta participants. The main parking lot remains reserved for BCC members only.
See property map below for details.
Upon Arrival
Proceed through the "Sailors' Entrance" gate on the east side of the BCC property.
Drop your boat & trailer in the "Boat Staging" area. No cars will be parked in this area.
Park your car in the "Sailors' Parking" area. This will be your parking area for the entire regatta.
Prepare your boat in the staging area and then proceed to the "Measuring" area. The Measuring Committee will affix your bow number and provide numbered stickers for your car and trailer.
After measuring is completed, return your boat to the staging area and proceed to Registration (in the Club office).
Following launch, trailers will be stored in the "Trailer Parking" area. PLEASE BE SURE TO AFFIX YOUR STICKER so your trailer is easy to find.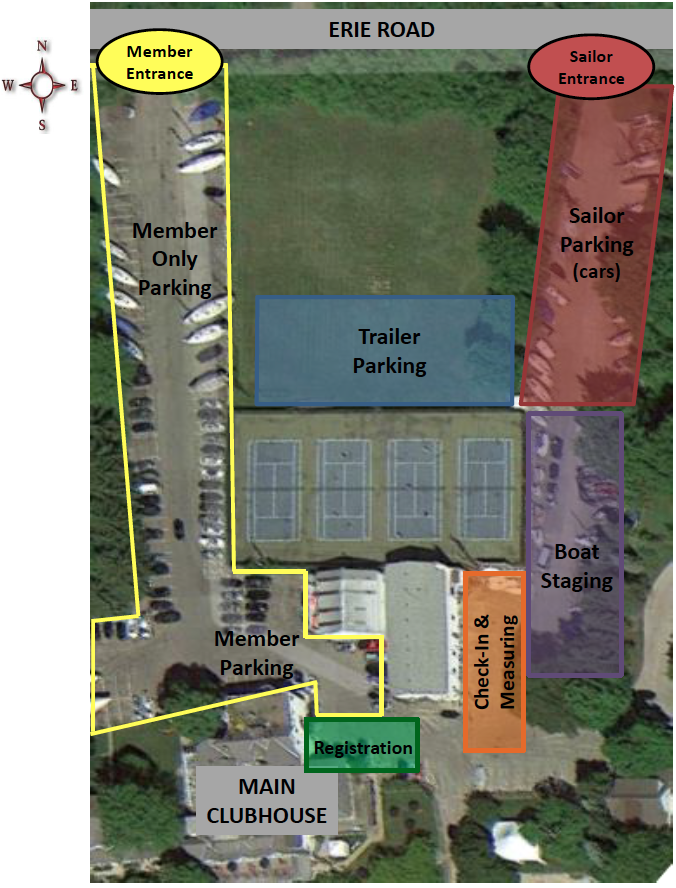 Tickets, Cash Cards and Lunches
BCC Cash Cards
In order to make your visit to the Canoe Club more enjoyable, the Club is offering pre-paid Cash cards that will be accepted at all terminals within the Clubhouse.
The cards can be preloaded with the denomination of your choice prior to your arrival. If you happen to use the entire balance during your stay, cards can be reloaded at the Front Desk or in the Club Office. Unused balances can be refunded back onto your credit card at the completion of the regatta.
Lunches
Lunches will be provided to competitors each day on the Front Lawn at 8am.
LUNCH ORDERS MUST BE RECEIVED BY THE CLUB BY TUESDAY JULY 14th

$7 includes:
Piece of fruit
Cookie
Choice of Wrap:
(Turkey, Ham or Vegetarian)

Fees for the entire regatta are as follows:
$7 x 3 crew = $21/day
Masters – 3 days @ $21/day = $63
Worlds – 6 days @ $21/day = $126

Optional Events
Masters Cookout at Anne Allen's

| | |
| --- | --- |
| Where: | 4399 Erie Road (can walk down beach from Club) |
| When: | Friday, July 17th 1800 |
| Who: | Masters Competitors. Guests welcome at additional cost |
| Who: | July 15th |
| Cost: | $30CDN |
| Includes: | BBQ Chicken, Pulled Pork, Salads, Rolls, Dessert, Soft drinks, Beer and Wine |
Bus Trip to Niagara Falls

| | |
| --- | --- |
| Where: | Meet Bus at BCC |
| When: | Monday, July 20th, 1730- Departure – 21:30 Return |
| Who: | Worlds Competitors. Guests welcome at additional cost |
| Who: | July 15th |
| Cost: | Extra tickets $10CDN |
| Description: | Enjoy an evening in Niagara Falls. Experience one of the Wonders of the World only 30 minutes from the BCC. The Bus will transport you from the BCC to the Falls. There are many options for dinner and entertainment and touring while you are there. Return bus back to BCC by 2130 |
Buffet Dinner at BCC

| | |
| --- | --- |
| Where: | BCC Dining Room |
| When: | Wednesday, July 22nd 1800 |
| Who: | Worlds Competitors. Guests welcome at additional cost |
| Who: | July 20th |
| Cost: | Extra tickets $20CDN |
| Includes: | Carved Beef and Turkey on weck rolls, Salads, Brownie Sundae Dessert. Cash bar |
Awards Banquet

| | |
| --- | --- |
| Where: | BCC Dining Room |
| When: | Saturday, July 25th 1800-2300 |
| Who: | Worlds Competitors. Guests welcome at additional cost |
| Who: | July 22nd |
| Cost: | Extra tickets $40CDN |
| Includes: | Peameal bacon (a Canadian favourite) Carved Beef, Pasta dishes, Salads, Finger Desserts. Cash bar |
Mooring Logistics
We look forward to your participation in the 2015 International Masters and/or Worlds Championships. As specified in the NOR, during both Championships all boats will be "wet sailed" - boats will be launched the day prior to the first Championship race and they will stay in the water until the conclusion of the regatta. At registration each competitor will be assigned a mooring in the Buffalo Canoe Club (BCC) mooring field.
The shore of Lake Erie in front of the BCC is shallow water with a sandy bottom. Some competitors will want to moor their boats in the shallow waters closer to shore. If competitors elect not to use the BCC supplied mooring, they will need to use their own anchor and ground tackle. To safely anchor your boat in the shallow waters, the regatta organizers recommend the use of a 20 pound navy or plow anchor with at least 8 feet of heavy chain such as this: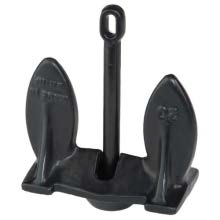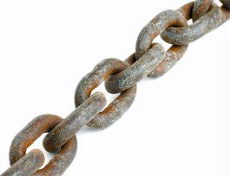 The ability to moor your boat in the shallow waters will be contingent on having enough space to safely moor the interested boats.
If competitors use the BCC supplied mooring, they should bring a minimum of 15 feet of ½ inch line that they will use to tie their boat to the mooring. Possible option to secure your boat to the BCC mooring: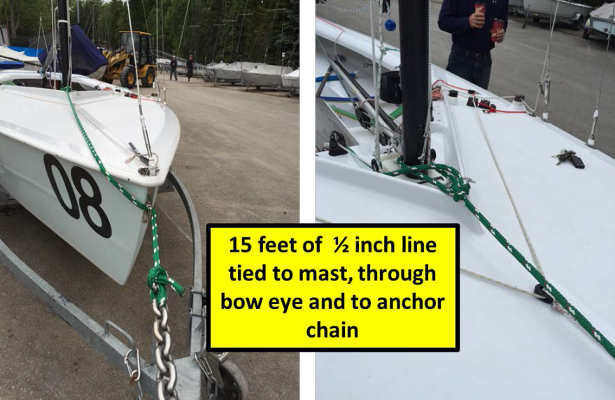 Directions
The Buffalo Canoe Club is located on the Canadian shore of Lake Erie, 15 miles West of Buffalo, NY and 90 miles South of Toronto, Ontario. Directions to the club and current Peace Bridge conditions can be found on the club's website.
Buffalo Canoe Club
4475 Erie Road, Ridgeway
ON, Canada, L0S 1N0
P: (905) 894-2750
Passports & Border Crossing
The Buffalo Canoe Club is located in Ontario, Canada, 15-20 minutes from the U.S. border (Peace Bridge).
Everyone, regardless of age, is required to present a valid passport or Nexus card to cross the border. Minors not crossing the border with their parents should have a letter from their parents explaining the purpose of the trip and giving permission to their guardians to take them across the border.
Airports & Shuttle Services
The Buffalo Niagara International Airport (BUF) is located 15 minutes from the U.S./Canadian border. Most major airlines including United, American, US Airways, Southwest, Air Tran, and Jet Blue fly to Buffalo. The Toronto Pearson International Airport (YYZ) is an hour and half drive from the BCC. Toronto offers more direct flights from major international cities. International competitors not wishing to have both a US and Canadian visa should consider flying into Toronto. The Hamilton International Airport (YHM) is located 45 minutes from the BCC.
The Niagara Airbus provides shuttle bus service from all the region's airports to Fort Erie (Canadian border town, 15 minutes from the BCC). For schedule & reservations: www.niagaraairbus.net.
Currency
U.S. and Canadian currencies are accepted at the toll at the Canadian Border as well as EZ Pass. U.S. currency is accepted at most stores and restaurants in the area, but usually not at par. Both currencies are accepted at the BCC.
Apparel
Official apparel is available from the Coral Reef Sailing Apparel Online Shop. They offer a great selection of polos, shirts, jackets, pullovers, headwear, bags, and accessories that all display the official event logo. All of the fabrics and materials are high quality and fit perfectly into the sailing lifestyle.
Housing Options
Member housing/billeting will be available on a limited basis. Additionally, there will be member houses for rent. Please contact Carol Starck jcstarck@yahoo.com with inquiries. First-come/first-serve.
Hotels & Motels
Rooms are being held at the Clarion Hotel at a discount for this regatta. Please email the front desk at centre@cogeco.net or phone toll free 1-888-269-5550. Mention that you are with the Buffalo Canoe Club World Regatta when making reservations.

Limited rooms are available 2 miles from the club at the simple Crystal Beach Motel.
Cottage Rentals
Crystal Beach is a summer vacation community with many cottages to rent.
Campsites
Camping is not allowed on the BCC grounds. There are several campgrounds within a 10 minute drive from the regatta site.
Additional housing information can be found on the Fort Erie website.
Boat Charter
Steve Cox and Thomas Allen will be handling boat chartering for the 2015 World Championship at the BCC. They will post info here from time to time to keep all informed. Right now they are asking for boats to charter. To make a very successful Worlds it is important to have a large number of boats available in the charter pool. Anyone interested in chartering his or her boat for the 2015 Worlds event please contact them so they can start listing boats.
It is early but time will go by quickly. If there are any people interested in chartering a boat for the Worlds please let Steve and Thomas know as soon they can. The logistics of boat charters are best handled months before the event. Advanced planning is the best way to get a good boat set for next year.
To contact Steve and Thomas, please use the following e-mail tomallenjr@juno.com